Physinews
:Suraju Oyekunle, a Nigerian university lecturer is currently facing a humiliating dilemma in his marriage.
According to a news report published by P.M.Express newspaper, Suraju Oyekunle, said to be a teacher at the Lagos State University (LASU), Lagos, is fighting hard to save his 13 years old marriage to Kafayat who has not only been unfaithful to him, but is pregnant for another man.
The real complication, however, is that Mrs. Oyekunle has openly confessed to being in love with the intruder, whom she said she prefers to spend the rest of her life with, the report says.
Interestingly, the intruder, Fatai Alimi, is a bricklayer.
The paper reported that Mrs. Oyekunle, 36, packed out from her matrimonial home in October when her husband travelled out of the town, and then moved in with Mr. Alimi, her new lover, who was living in the same Igando community where she and her husband were living in Lagos.

She preferred the bricklayer's smaller apartment to her husband's house, and she took along with her, a 12-year-old son she had for her husband.

Mr. Alimi, 34, was said to have been arrested by the police, and arraigned in court on Thursday for conduct likely to cause breach of peace, after the woman's husband lodged a complaint against him.

He pleaded not guilty before a magistrate, who granted him bail in the sum of N25,000. He was sent to the prison custody until he is able to meet the bail conditions.

Meanwhile, Mrs. Oyekunle has vowed to do all she could to secure freedom for Mr. Alimi.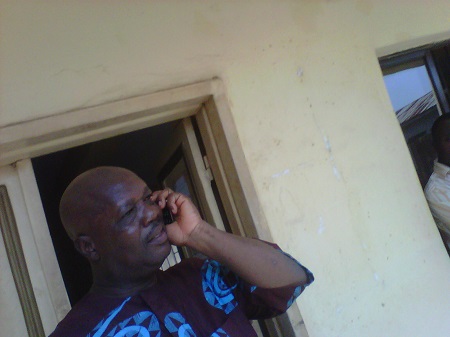 While at the court to bail Mr. Alimi, Mrs. Oyekunle reportedly said she left her marriage because she and her husband were unable to get another child during their 13 years in marriage, and that the husband wasn't taking good care of her.

She said she became pregnant for her lover few months after they met, and that with him, she was now living in peace.

Mrs. Oyekunle said that her bricklayer lover, despite his poor status, was better off than the husband in everything.

She said her family supports her relationship with Mr. Alimi.

Mr. Alimi is scheduled to appear again in court on December 12.